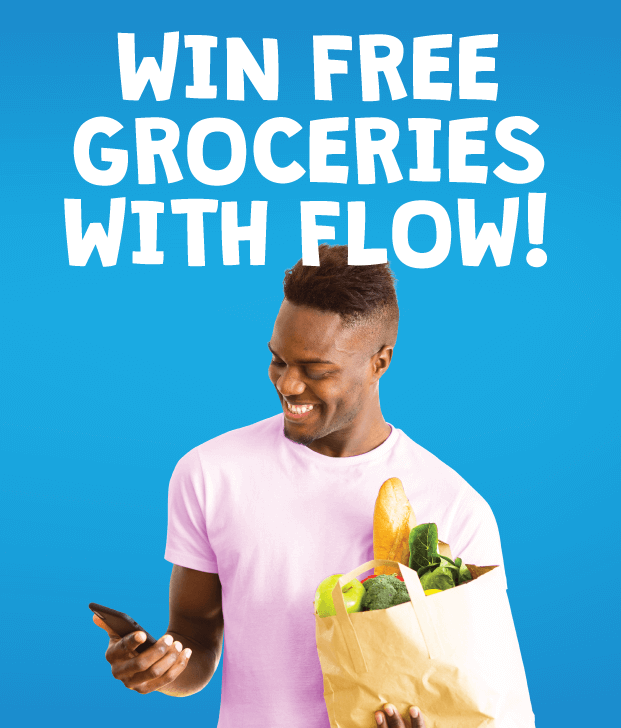 Top-up $20 or more and get a chance to win $500 free Massy Cash.
Terms & conditions apply.
Promotion runs July 27th - August 14th, 2020. Prize draw August 17th.
Top up online at www.topupflow.com or your preferred vendor.
Win Free Groceries with FLOW Promotion
Topup $20 or more in a single transaction with Flow for a chance to win $500 in Free Massy Stores Cash.
Customers who top up $20 or more in a single transaction will automatically be entered into the draw.
Winner will be notified via call and presented with $500 in Massy Cash.
Winners of Massy Stores Cash will be required to visit the Flow Warrens Office with their handset to collect their prize.
The promotion begins on July 27th and ends on August 14th, 2020.
The promotion is open to all pre-paid mobile customers who are legal residents of Barbados and aged eighteen (18) years or older.

By entering this promotion participants warrant and represent that they are legal residents of Barbados aged eighteen (18) or older.
In the event that this warranty and representation proves to be false any prize(s) will be forfeited.

All customers meeting the criteria during the promotional period will have a chance to win.
Prize draw will take place on August 15th using the pool of qualifying customers from the promtional period.
The prize will be $500 Massy cash given to one customer.
Only entries that topup during the promotional period July 27th to August 14th 2020 will be eligliable.
The more times you topup $20 or more in a single transaction per day the more chances you have to win
Only customers that Topup $20 or more in a single transaction for the day will qualify
To claim a prize, the potential winner must also present a valid, legal form of photo identification (e.g. drivers licence, passport, voter's identification card).
An electronic database will be used to randomly select the potential prize winner from among all eligible entries.

Potential winners who are deemed to be eligible as per the other criteria in these promotion rules (e.g. their accounts are in good standing) will be contacted by a Flow agent in order to be declared a winner.

Flow employees, authorised agents, marketing agencies, contractors, business partners and associates, and their employees, and the employees and agents of sponsors of the promotion; and the immediate families of all such persons or groups are not eligible to participate in this promotion.
By participating in this promotion, the winners agree to allow Flow to use their name, image, likeness and/or voice in any media whatsoever including press, print, radio and television, for the purpose of advertising, trade or promotion without any further compensation whatsoever being due or payable to such winners by Flow, its parent company or any of its affiliated companies.
If a potential prize winner cannot be contacted, or if the potential winner does not claim his/her prize, or if he/she is found to be ineligible, or if he/she cannot or does not comply with these Rules, that potential winner will be disqualified and an alternate potential winner may be selected at Flow's sole discretion.
Prizes are not transferable and may neither be exchanged nor redeemed for cash.
In order to claim and receive a prize, the potential winner will be required to sign Flow's Liability Release. Failure or inability to sign that release will result in the potential winner being disqualified and an alternate winner selected at Flow's sole discretion.
Flow reserves the right to modify, suspend, cancel, or terminate this promotion within its sole discretion and reserves the right to disqualify any entrant in its sole discretion.
By entering or participating in this promotion participants agree to be bound by these promotion rules. The decisions of Flow are final in all matters related to the promotion and no correspondence will be entered into thereon.
Flow's standard terms and conditions also apply.
This offer cannot be combined with any other offer.