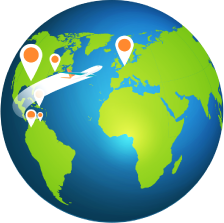 Roaming Rates
Roam ON with your Chippie at incredibly low rates! Stay connected wherever you
travel to with your own number without any worries. Surf or call back home anytime and
anywhere. Chippie keeps you connected!
Data Roaming
Better Control
You have total control over your data roaming charges as
you can only use existing credit on your Chippie Prepaid
account
Competitive Rates
Competitive data roaming rates compared to other
telecom providers
Voice Roaming
No Need to Subscribe for Roaming service
It is included with your Chippie Prepaid account
Connected Worldwide
No matter where you are in the world,you can be
reached at your own mobile number
Better Control
You are able to control your spending by determining the
available Chippie Prepaid balance on your account
Roaming Bundles
Travel with your Chippie!
Travel for pleasure or work and stay connected on your
own mobile number by activating the Roaming Bundle that suits your needs best.No hassles, No worries, No suprise. No need to search for free WIFI at hotels, restaurants and cafes.
The Chippie prepaid Roaming bundles service gives
Chippie prepaid users an all 1 one bundle to surf,text and SMS without having to worry about any surprises as this is a 1 purchase, no additional costs deal. Indeed! Activate and keep control of your costs.
To ACTIVATE VIA miUTS app, click on the below play store / app store links :
ACTIVATE VIA
the miUTS app
ACTIVATE VIA
the miUTS app
Destination

USA

Aruba

The Netherlands

Caribbean*
*Anguilla-Antigua-Barbados-British Virgin Islands-Cayman-Dominica-Grenada-Jamaica-
Montserrat-St.Kitts & Nevis-St.Lucia-St.Vincent & Grenadines-Turks $ Caicos-Panama.
Topping up your Chippie prepaid when abroad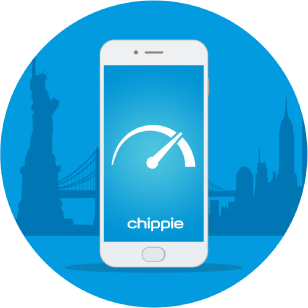 Traveling for business or pleasure with your Chippie prepaid? Don't worry about
staying connected! You can top up your balance anytime, anywhere.
With a scratch card by using *191* pin number#
With a E-pin voucher by using *191* pin number#
Via Online banking: recharge your own phone or anyone else's.
By lefting someone reload your Chippie at a local ATM back home.
Via SMS 1111
Make sure your device is set to 'Roaming' in order to enjoy your connectivity
when abroad
To check your call credit balance dial #191#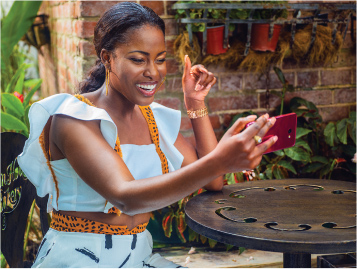 Roam with Chippie
postpaid data
Don't miss important e-mails or other data files while you're traveling abroad! The
Chippie Data Roaming Services is now ready for you to use! All UTS postpaid mobile subscribers can roam with data (GPRS,LTE). The type of data roaming service depends on what data roaming service our partners offer in the country where you roam.
The data roaming service is possible for all postpaid and prepaid accounts.Browse,
download important files, read and send e-mails while your are on a business trip or vacation.
Roam with Chippie postpaid voice
Reach your own mobile number whether you travel the United States, Europe, South America, the African continent or the
Nevis, Saba, St.Eustatius, St.Barths.
Pacific region through voice and data roaming with our international GSM networks. Utilize either our prepaid of postpaid billings options and also make and receive calls in the territories of Bonaire,Dutch St.Maarten, French St.Martin, St.Kitts &
Check the details of the country you are visiting to determine whether your wireless device is operational.
Note: Roaming charges apply.
Data Roaming Protection
Data Roaming Protection is a service introduced as of May 8,2015 to avoid high additional
costs for roaming on your invoices due to the use of DATA while traveling abroad
Making use of data while in another country,meaning 'data roaming',can cost considerably
more when a client downloads, receives or opens a document,makes use of e-mail,sends or receives pictures through mail,uses WhatsApp or ping,surfs the internet,downloads music, gets on YouTube or Facebook etc.All of this can cost considerably more than the usual local costs compared to when a client is in a foreign country. Unfortunately in most cases,clients do not inform themselves appropriately regarding this prior to their trip.