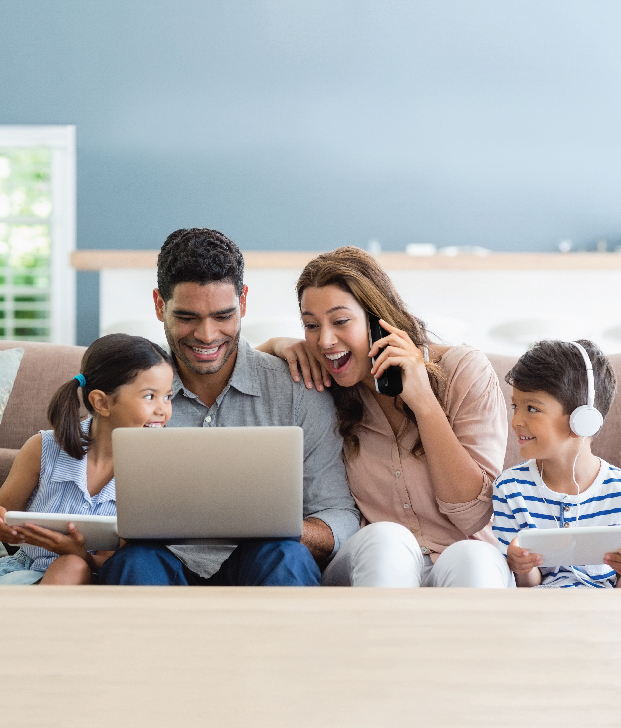 Check our Ultra Bundle Package
For only $525 per month you get the widest variety of TV content, including kids, premium movies and premium sports programming, the fastest Broadband package in any bundle and the most affordable calling rates in Trinidad. You save over $400 per month and best of all, there is no contract!
Sign up for the Flow Ultra bundle today and get 600 minutes free talk time for the first month which can be used to make calls to local landlines and landlines in over 50 international destinations including USA, Canada and the UK. Plus get a free cordless phone while stocks last.
150 Channels
Includes 49 HD Channels
Flow Sports 1 HD
Flow Sports 2 HD
up to
100 Mbps
Download Speed
Unlimited Flow to Flow
Local landlines at $0.21/min
Local mobiles at $0.77/min
International calling at $0.57/min
Flow Ultra TV channel lineup
Want more calling minutes? You can upgrade your Home phone package in the Flow Ultra bundle
Home Phone Plus
600 minutes
50 DESTINATIONS
Destinations include
USA, Canada & UK
Home Phone Max
1800 minutes
50 DESTINATIONS
Destinations include
USA, Canada & UK
      *All prices are VAT inclusive
You can also subscribe to any one of our A La carte channels
A La Carte
415
Channel
Ten Cricket
$39.12
416
Channel
Zee Cinema
$34.23
422
Channel
TV 5
$34.23
423
Channel
RAI
$34.23
425
Channel
PSTV
$39.12
432-433
Channel
ADULT PACKAGE
$79.00
*All prices are VAT inclusive.
Cloud Storage packages (sold separately)
AVS - Cloud PVR
Flow's Cloud Personal Video Recorder (PVR) allows you to record up to 115 hours of your favourite movies and TV shows so you can watch them whenever you like. Pause, Rewind or Fast-Forward your shows with just the click of a remote. It's TV YOU control.
| # of Storage hours | Cost per month |
| --- | --- |
| 10 hours | $32.28 |
| 25 hours | $63.57 |
| 50 hours | $79.99 |
| 75 hours | $89.99 |
| 100 hours | $94.88 |
*All prices are VAT inclusive.