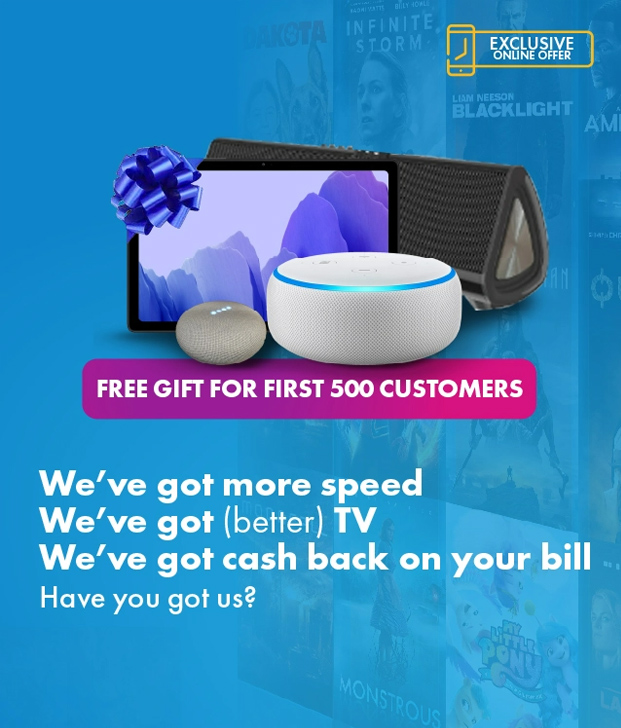 AN OFFER YOU CAN'T MISS!
Sign up online for the Connected Premium bundle and get

$49 off for the first 6 months!
CONNECTED PREMIUM
for just $499
$450/mo*
Internet Speeds
up to 200 Mbps
TV Plus - 145 channels
See channels
Exclusive access
with Flow
FREE Flow Calls+
100 local mins
Learn more
*For the first 6 months of your subscription.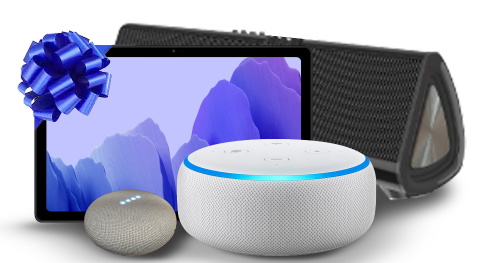 FREE GIFT FOR THE FIRST 500 CUSTOMERS!
That's right. Receive an amazing gift* if you are one of the first 500 customers to apply. Gifts include:
Samsung Tablet

Amazon Echo Dot

Wireless Bluetooth Soundbar

Google Nest Mini
Limited time offer.*
1.This offer is available to new customers only and customers must sign up through our website www.discoverflow.com to qualify for the offer.
2.The discounted price of $450/ mth vat inc. is valid for the first 6 months of service. From month 7th, the regular retail price of $499/ mth vat inc. will apply.
3.The 500 free gifts will be allocated on a first come first serve basis and are available while stocks last. Customers will receive one of the following items:
Wireless Sound Bar
Google Nest Mini
Amazon Echo Dot
JBL Wireless Speaker
4.One (1) item will be allocated per customer while stocks last.
5.If a customer qualifies to receive a gift, they will be contacted by a Flow representative to arrange collection of the item at one of our 4 retail stores. At the store, all qualifying customers will participate in a spin the wheel to determine which item they will receive.
6.This offer is valid from July 11th 2022 until September 30th 2022 and free gifts must be collected by October 31st, 2022.
7.Regular installation fee will apply.