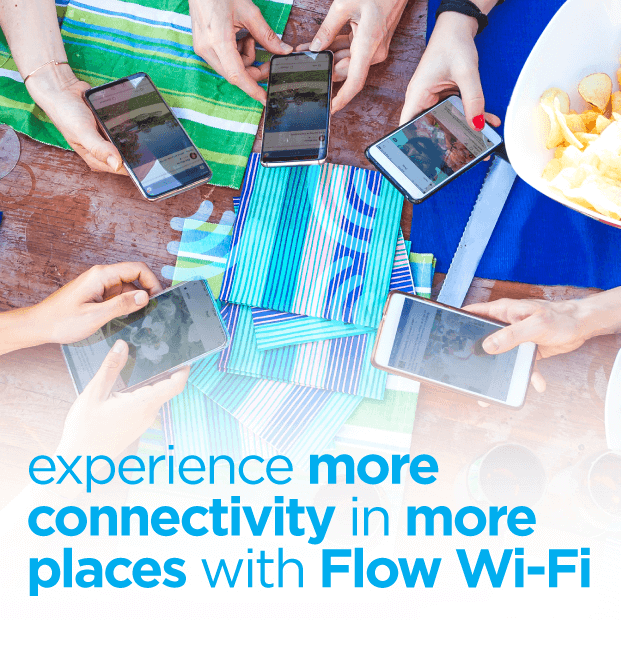 How can we help you today?
Introducing the all NEW Flow Wi-Fi!
Flow Wi-Fi is a FREE Wi-Fi network available to all Flow Residential Internet customers
that allows you to stay connected on-the-go in neighbourhoods across the country.
Benefits of Flow Wi-Fi
FREE for all Residential Internet customers
Stay connected on-the-go
Get 200MB of data every 24 hours
Save on your data bill
Secure connection - does not access your personal
home account which is encrypted and secure
Get ready to experience more connectivity in more places
with your friends and family!
Connect instantly to Flow Wi-Fi with your Flow ID
Don't have a Flow ID?
How to sign up for Flow ID

Once you've successfully signed up for your Flow ID,
you can connect to Flow Wi-Fi on your portable device and start browsing!
How to log on to Flow Wi-Fi
FAQs
What is Flow Wi-Fi?
Flow Wi-Fi is a new feature offered to existing residential Internet customers which gives access to free Wi-Fi on the go.
Who is eligible for Flow Wi-Fi?
All Flow residential Internet customers in good standing are eligible to enjoy this new feature.
What speeds will I get on Flow Wi-Fi?
Flow Wi-Fi offers speeds of up to 10Mbps download and up to 3Mbps upload
Is this service FREE?
Yes, currently this service is FREE to all Flow Broadband residential customers
Will this service show up on my Bill?
No, this service will not show up on your monthly bill.